AORUS Gen4 7300 SSD delivers sequential read up to 7.3GB/s with 8 Channel controller- Phison E18- and 3D TLC NAND. The E18 controller is built with the advanced 12nm process ensuring sufficient computing power. Also it supports up to 8 NAND Flash channel with 32CE, DDR4 SLC caching and meets NVMe 1.4.
* Performance may vary based on system hardware & configuration.
** Test system configuration: AM5 X670(AMD Ryzen 9)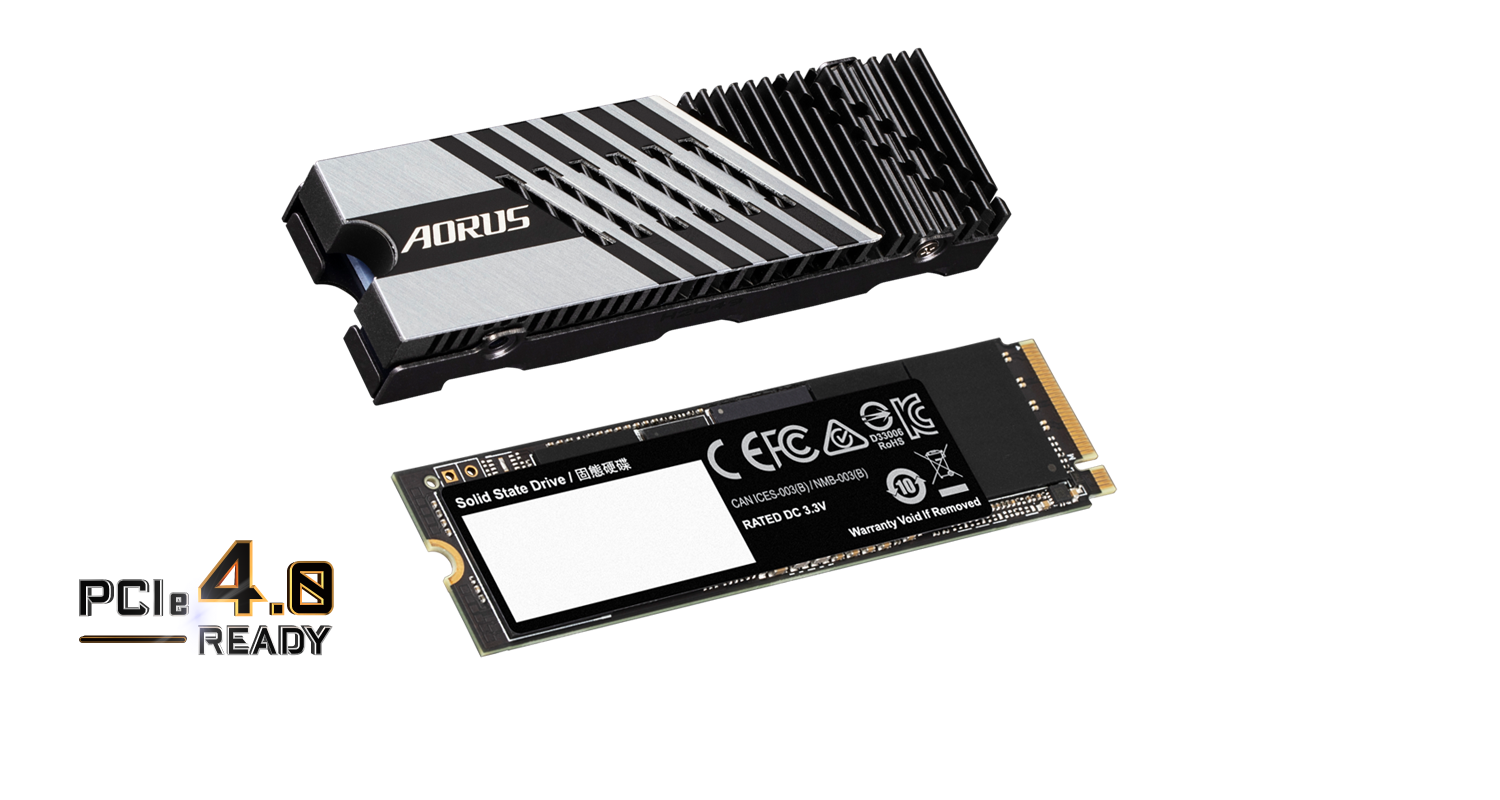 + PCIe 4.0×4, NVMe 1.4 Interface
+ DDR4 DRAM cache
+ 8 CH with 32 CEs
+ Supports SMART and TRIM
+ Support AES-256 Encryption
+ Offered with an optional aluminum Heat Spreaders
+ PS5 ready
NAND Flash Selected for High Quality and Performance
Selected High Speed 3D TLC NAND Flash (1600+ MT/s)
The ultra high speed 3D TLC NAND Flash is operating at 1600+ MT/s, which is 50% more than the prevision version that leads to better performance.
2X
NAND Flash Speed (MT/s)
Xtreme Storage Performance
By adopting Phison E18 controller and 3D TLC NAND, AORUS Gen4 7300 SSD delivers blazing speeds: up to 7,300 MB/s for sequential read, and up to 6,000MB/s sequential write. Sequential Read performance of PCIe 4.0 SSDs is 2 times faster than the PCIe 3.0 SSDs. Get ready to enter the next generation of computing with faster and smoother, gaming, streaming, and graphics intensive rendering.
Optimized Aluminum Heat Spreaders with Nanocarbon Coating for 20% Cooler
Challenged passive cooling to maximize surface area for heat dissipation with advanced thermal technology Nanocarbon coating. Applied with dual side high conductivity thermal pad ensures the heat transferring to the heatsink. The 7mm height heatsink is compatible with all the M.2 slots including the one under graphic card.
Nanocarbon Coating / 7mm High Compatibility Heat Spreader
Dual Side High Thermal Conductivity Pad
M.2 SSD
Aluminum M2 Baseplate
Efficient Heat Spreader Design
Compared with regular heat spreader, the new high efficient heat spreader improves thermal dissipation to extend 46% more time running at high speed. In addition, compared to the one without heatsink, AORUS Gen4 7300 SSD running 5 times longer at 7.3GB/s. Enjoy the smoother & upgraded storage performance.
Interface

PCI-Express 4.0 x4, NVMe 1.4

Form Factor

SSD without Heatsink: 80 x 22 x 2.3 mm (Single Side)
SSD with Heatsink: 80.5 x 23.5 x 11.25 mm

Mean time between failure (MTBF)

Power Consumption (Idle, PS3)

Power Consumption(PS4, L1.2)

1. Limited 5-years or 700TBW.
2. Limited warranty based on 5 years or 700TBW, whichever comes first. (*TBW is evaluated by JEDEC workload standard. )
*TBW (Terabyte Written): Terabytes Written is the total amount of data that can be written into a SSD before it is likely to fail.
3. When the usage of an NVME SSD as indicated by the "Percentage Used" (SMART ID: 05) in SMART page of "GIGABYTE SSD toolbox" reaches 100 means out of warranty. (A new unused product will show the number of 0)

• Test system configuration: configuration may vary by models, we will choose the latest platform for verification.
• Performance may vary based on SSD's firmware version and system hardware & configuration. Sequential performance measurements based on CrystalDiskMark and IOmeter 1.1.0.
• Speeds based on internal testing. Actual performance may vary.
• 1GB = 1 billion bytes. Actual useable capacity may vary.

OS: Windows 11 22H2 (OS build 22621.819)
CPU: AMD Ryzen 9 7950X 16-Core Processor 4.5G
Memory: DDR5 5600 16GBx2
Chipset: AM5 X670 (X670E AORUS MASTER)